Project Summary
What is the Gap Year: Environmental Conservation in Latin America all about?
Informally known as the forgotten continent use your gap year to explore some of the world's most unchartered rain-forests and coastlines in Latin America on our environmental conservation gap year programme. In doing so, volunteers will be able to contribute to innovative initiatives, which incorporate environmental conservation work with interaction with local communities to find sustainable solutions to environmental issues in the region.
You will first travel to Costa Rica to volunteer on our sea turtle conservation project, which are an endangered species due to poaching, introduced and natural predators. This project aims specifically to protect female turtles, their nests and eggs to ensure the survival of the species. Volunteers can actively contribute to their conservation by undertaking a number of activities on this project including nest patrols and releasing hatchlings into the sea. Volunteers may assist in the collection of scientific data into turtle behaviour to aid conservationists improve techniques that will protect the species in the future.
For your next destination you'll be heading into the heart of the Ecuadorian rainforest to take part on our agro forestry and environmental conservation project in the Mindo Cloud Forest. Human activities as well as global warming have ruined large chunks of Ecuador's rainforest. This project aims to achieve sustainability through agriculture and eco-tourism and focuses on maintenance and restoration of natural ecosystems.
Finally you will be heading for the world renowned UNESCO world heritage site Manu Biosphere Reserve in Peru to participate on a biodiversity monitoring initiative. This project is truly sustainable, and it simultaneously works to protect and monitor the natural world whilst working with local communities on environmental education and environmental issues facing local people. It is the perfect way of examining the human impact on the environment and to look for sustainable environmental solutions whilst being surrounded by spectacular natural beauty and local culture. This diverse gap year programme really offers you a great insight into the challenges and solutions facing wildlife today.
Gap Year Travel Packages
For this gap year package you will spend 4 weeks volunteering on each of the following projects: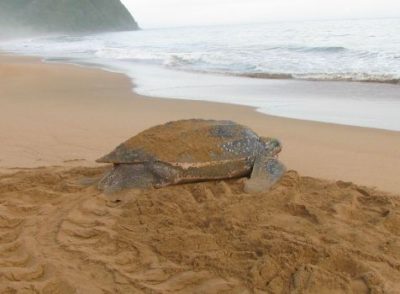 Sea Turtle Conservation in Costa Rica
Volunteer on this Sea Turtle conservation project and protect female sea turtles, their nests and hatchlings on beaches along the coasts of Costa Rica.
Environmental Conservation in the Peruvian Rainforest
Be part of a leading research programme and help with sustainable community and environmental conservation initiatives in the Peruvian rainforest.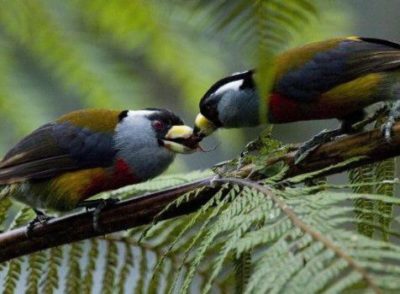 Agro Forestry and Environmental Conservation in the Mindo Cloud Forest
If you are interested in environmental science and conservation efforts then volunteer on this project located in the stunning Cloud Forest in Ecuador.
Role of the Conservation Volunteer
As a volunteer your role will depend on the needs of the project. In Costa Rica following one week of intensive Spanish lessons, volunteers will head to their project where they may collect eggs, go beach patrolling, maintain the beach, collect research and data amongst other activities. In Ecuador volunteers may undertake activities linked to conservation and sustainability through education, collection of seed, work in a nursery and the management of trails. In Peru volunteers may get involved in pit falling, mist netting, mammal transects, bio-gardens, agroforestry, camera traps. vegetation mapping, biomass project participation, amphibian bamboo trapping, sustainable land management and other tasks.
---
What skills do I need to be a Conservation Volunteer in Latin America?

In Costa Rica the project will require volunteers to be in close contact with turtles, and volunteers must be comfortable with this.

To undertake these projects a B1 Independent User level of CEFR Spanish is required. Volunteers will attend 1 week of intensive lessons in Costa Rica at the start of their gap year. Additional classes can also be arranged in Quito and Cusco before your placement for an additional cost.

In Ecuador those with a strong background in natural sciences are sought

In Peru a basic level of fitness is required as well as an interest in conservation.
REQUEST MORE INFO   RESERVE YOUR PLACE
The Location
Where will I work in Latin America?
Latin America is home to the most diverse and incredible natural landscapes on the planet as you will see on your volunteering projects, but there is so much more to see and do while on the continent. Trekking through Parque Nacional Corcovado, a biologically rich coastal rainforest, in Costa Rica is famed for wildlife spotting opportunities as well as a visit to Arenal volcano, one of the western hemisphere's most active volcanoes. There are fantastic cities in which to sample urban life with a mix of bars and restaurants in San Jose with cultural attractions such as Museo de Oro Precolombino, which houses over 2,000 pre-Colombian gold pieces. In Quito, Ecuador, the second highest capital in the world, there is a unique blend of urban and indigenous cultures. Volunteers may will also find snow covered Cotopaxi, one of the highest active volcanoes in the world appealing or visiting the Galapagos Islands where Darwin was inspired to write his theory of natural selection. Outside of Manu Biosphere Reserve in Peru, volunteers can undertake rainforest canopy walks, make a visit to the Uros Islands and see these ancient floating villages, the Ballestas Islands, Peru's answer to the Galapagos. Why not take in the glacial mountain range or Cordillera Blanca, the lost Incan city Machu Picchu or soak up some high culture in the capital Lima. An amazing adventure for your gap year.
Duration: 12+ weeks
Cost: £5932 / $9260 for 12 weeks
Requirements: Age 18+
Location: Caribbean and Pacific coastal locations – Costa Rica, Mindo Cloud Forest, Ecuador, Manu Biosphere Reserve – Peru.
Working hours: Hours vary depending on the project
Project availability: All year round
Arrival day: Speak to your Kaya advisor
Accommodation: Shared accommodation, Costa Rica. shared rustic house, Ecuador, shared room in forest eco lodge, Peru.
Food: 2-3 Meals per day, Costa Rica, 2 meals per day, Ecuador, 3 meals per day, Peru.
Airport pickup and drop off: Pick up and drop off in all locations and transfer to project site.
Training: Pre-departure information pack, on-site orientation and project induction provided
Intensive Spanish Lessons (20hrs) in Costa Rica
Support: 24 hour support or on-site coordinator in each location
24/7 emergency number for volunteers and families
Local SIM card and phone in Ecuador (deposit required and must be returned)
Hostel in Cusco for two nights
2 nights in Quito, including breakfast
EFR first aid and technical scientific training in Peru
Flights
Airport Transfers
Insurance
Visas
Transfer to project site in Costa Rica
Daily transfer to the project in Ecuador
Police background check: US and UK citizens processed through Kaya (admin fee applies) all other nationalities must provide local police check.
Easy 3-step application process
APPLY ONLINE Click here to apply online and pay your deposit to secure your space on your chosen project. Our advisors will then contact you to guide you through the next steps.
TELEPHONE INTERVIEW Once we've received your application, we'll be in touch to arrange your informal telephone interview with your Kaya Placement Advisor.
GET PREPARED When you've been accepted onto your project we'll send you your Welcome Pack and lots of other helpful information to assist you with preparing for your placement.
We pride ourselves on providing you high quality placement information throughout your application process and whilst on the ground. Connect with us if you have any questions.